I wanted to continue to share our before and progress pictures with you, but also include our plan for each room now that we are moved in. It is very overwhelming to think about what needs to be done to an ENTIRE house, so we thought that a good place to start was just to make a general list for each room and then prioritize. We live in the real world where this all takes time and money.
This was the den before we moved in. It's in the back of the house and the previous owners used it as their tv room.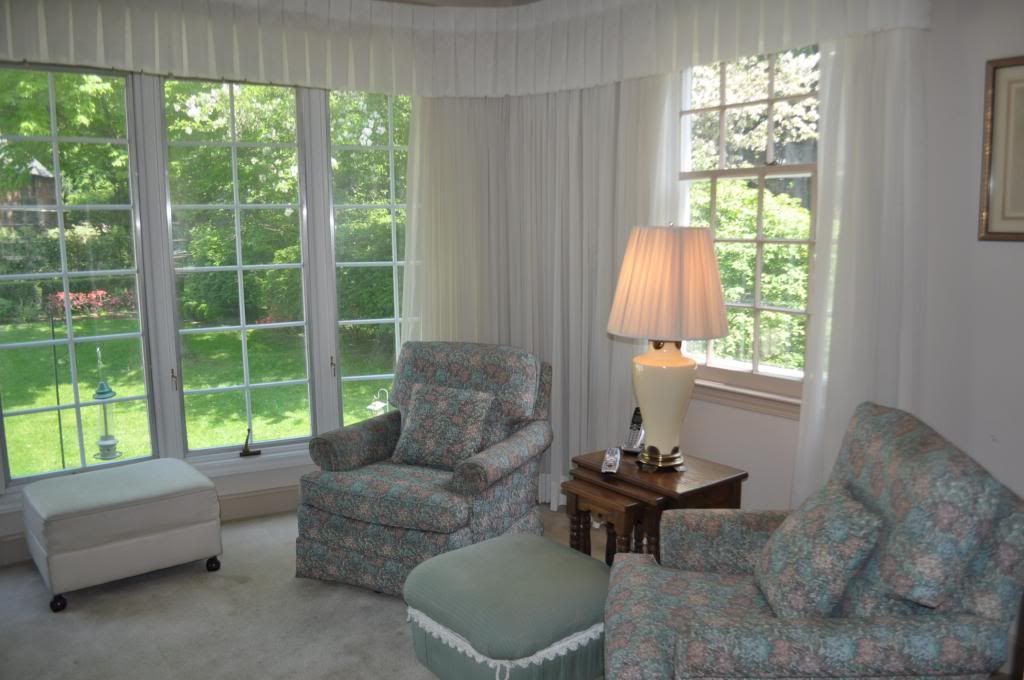 This space is 13X12. Not large, but definitely a good space. At first we were going to leave this room empty, but the logistics of furniture placement (more on that in another post) of our living room led us to make this our family room. Aside from the curtains and carpet, there was one other eye sore we had to take care of right away.
Hiding behind those lovely curtains was a window that was duct taped shut and covered with bars. That window looks onto a screened in porch which we think was added after the home was built. I would love to know the thought process that went into keeping the window as well as the addition of the bars. I wanted it gone and for a few extra bucks our painter made it disappear from this side.
For starters you know that ripped up all the carpet and had the floors refinished. They are perfect, at first I thought I wanted them darker but this stain shows the grains but also hides a lot of the unsightly dog hair we deal with everyday.
The walls are Urbane Bronze by Sherwin Williams. It's a great mix of brown, black and charcoal. The white trim compliments the walls well and with so much natural light the space doesn't feel dark. There isn't a ton we need to do in here, more decorative and a few new pieces.
The Plan
add shoe moldings

add a rug

new/brighter pillows for couch

add pendant light fixture

window treatments...maybe curtains on outside of bay window

purchase new tv stand and possibly create a gallery wall around tv like this
We are loving the coziness of the space, and with the room in the back of the house it feels secluded. I created a den makeover board where I'm dreaming up ideas for the room.
Up next is our dining room!