There is so much anticipation and expectations that come with planning a vacation.
I research things to do and restaurants, but there is also significant time spent packing our families, planning outfits, even contingency plans for rainy days.
Everyone wants to have a great vacation...When I was 18 years old my mom took us on a trip to Washington DC and I was acting like a complete brat and being a pain in her a$$ that she drove me to the airport and put me on a plane home. Yes, that happened. Even my laid back mother didn't want her vacation spoiled.
There is money saved, precious work vacation days are being used and it's usually much needed family time together too that has me wanting it to be the best it can be.
But since becoming a mom there are a lot less expectations. They are still there, but in a different way. Of course we want perfect weather, a chance to relax, and maybe get a good family picture (maybe not on your list, but high on mine). There are also a few simple things I look forward to like not having to cook or clean. And thankfully expectations have been lowered because children are unpredictable, toddlers are temperamental, and meltdowns are going to happen home or away. We were certain that while strapping a flailing and crying William into the car one night that someone was ready to call 911 for child abduction.
There were moments of feeling like the trip was simply just a change of scenery and times where tempers were short and patience exhausted from some disappointing news. But perspective usually intervenes and you realize just how lucky you are to even be where you are. Kids are going to be kids, things will be out of my control, but you gotta just hope the next hour will be better.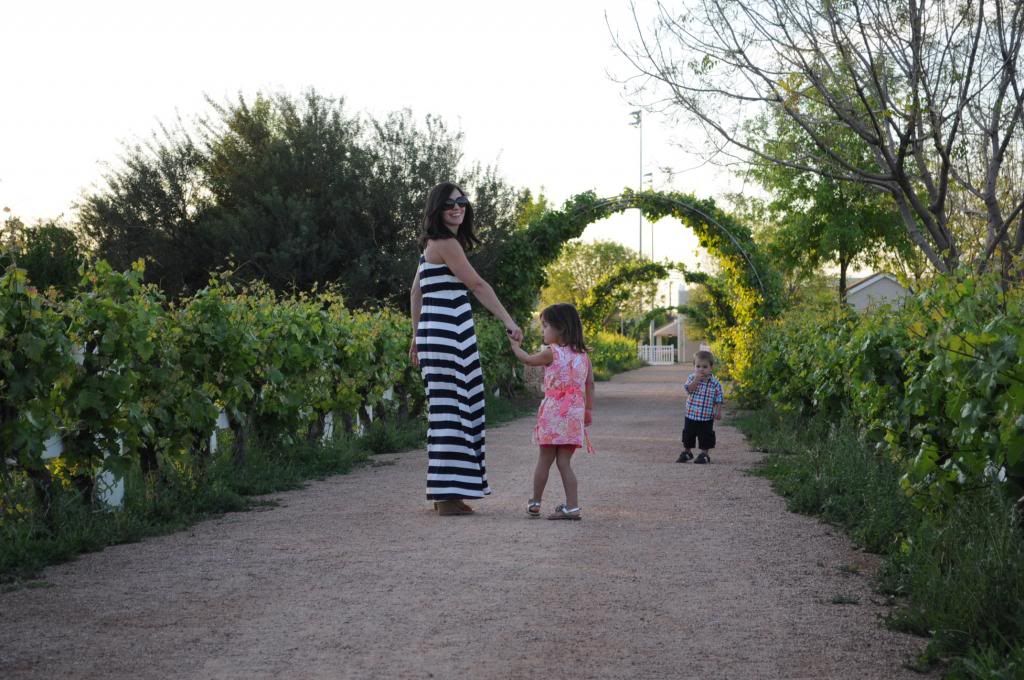 But some expectations were pleasantly exceeded. Vacation Lauren was a complete surprise. I couldn't have planned for the polite, patient, and oh so grown up daughter. She was also more than willing to to smile for the camera almost 99% of the time...huge bonus for this mama!
There is no perfect trip, and we've learned to take the good with the bad. And as time passes, you usually forget about the little things that created a few glitches in the trip and
in the end it's the picture perfect memories that remain.
All of the pictures were taken at Joe's Farm Grill in Gilbert, Arizona. It was our best meal and a great place for the kids to run around after and snap a few pictures!